To work together with BHR offers many advantages.

On-line registration is free!

No extra cost is due. The only thing BHR is entitled to is a commission on all successful bookings made through its network.
(commissions may vary according to the kind of program you choose)

VISIBILITY
BHR network embodies a great number of web sites on which the partner hotels are shown.
Your hotel facility will be visible:
- to thousands of daily visitors that search the BHR network;
- to all BHR partner travel agencies (a whole web site is dedicated to them);
- to the search results made by all e-commerce company users like Google, Yahoo, Kelkoo, Virgilio, Tiscali, altavista, Arianna, Libero, Overture;
- To all BHR partners.
BHR network also allows its partner hotels to connect to the Global Distribution Systems (GDS).
Your Hotel facility will be accessed:
- through Worldspan, Galileo, Amadeus (GDS), which are connected to more then 650.000 IATA agencies.
- by all the main travel web sites that daily make their bookings using Pegasus Solutions (travelweb, travelocity, Orbitz, Hotel.de, Hotwire, Expedia ecc.)and all the web sites linked to them.
BOOKINGS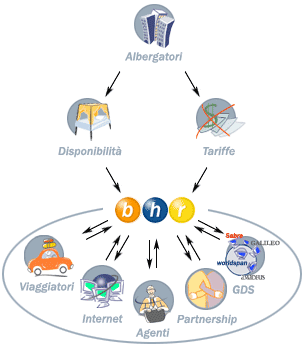 BHR offers a unique on line booking system that manages/announces prices and availibility on all distribution channels linked to its network.
Your hotel will be able to:
- be booked there and then from all over the world, through the on line availibility that can be accessed by:
- BHR network portals;
- BHR partner travel Agencies (giving the Agencies a further commission - "over commission");
- the BHR call centre (Italy, Spain, USA);
- partner web sites;
- patnerships;
- directly access the system through a username and password;
- create special offers (last minute, packages, minimum stay...);
- To check all booking stages( requests, bookings, changes, confirmations) or the turnover, through reports, and system statistics;