Hotel Inglaterra
Spain - Seville (Seville)
PLAZA NUEVA, 7

Description
Back in 1840 an ancient convent called Casa Grande de San Francisco which was located in front of the Town Hall, was demolished ,at the front of the Plaza, facing the old Consistorial, the Fonda Inglaterra (Inn) was established in 1857. This was a first rate establishment, which made all sevillians feel proud. The local press at the time reported how the city finally had lodgings worthy of its category as the third capital of the Kingdom. From 1857, Hotel Inglaterra (at the beginning Fonda Inglaterra) decided to carry out some reforms on order to continue true to its slogan offering ?as in the past: "Prestige,tradition and quality since 1857 to serve Seville."
Book Online: (Search Availability)
Amenities
- 24 hour front desk

- 24-Hour Room Service

- Audio Visual Equipment

- Baggage Handling

- Banquet Facility

- Bar

- Business Center

- Car Rental Desk

- Concierge Desk

- Conference Facilities

- Continental Breakfast

- Copier

- Copy Service

- Currency Exchange

- Doctor On Call

- Driving Range

- Dry Cleaning

- Elevators

- FAX

- Fire Safety Certified

- Florist

- Full Breakfast

- Handicap Facilities

- Honeymoon Suite

- Housekeeping

- Indoor Parking

- International Direct Dial

- Laundry Facility

- Lounge

- Luggage Storage

- Maid Service

- Meal plans available

- Meeting Facilities

- Meeting Suite

- News Stand

- Non-Smoking Room

- Nursery for Children

- Overhead Projector

- Parlor

- Phone Service

- Projector

- Restaurant

- Room Service

- Safe

- Safe Deposit Box

- Sightseeing Arranged

- Small Pets Allowed

- Suite

- TDD Telephone Machine

- Tour Desk

- Tourist Information

- VIP Floor

- Wheel Chair Access
Rooms Description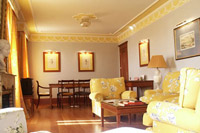 The Hotel Inglaterra has a total of 86 rooms, of which: 55 are standard twins, 4 Junior Suites, 27 Superior rooms. Each of these is equipped with air conditioning, televisión, parabolic antenna, minibar, individual safety box, Internet connection etc. The superior rooms have more a little dining room and a large bathroom with jacuzzi tub.
Location
Located right in the historic, commercial and tourist centre of the city, facing the Town hall and very near the Cathedral, the Giralda.
From Airport:
15 minutes from the airport, 10 km , Kansas City to the centre.
From Train Station:
10 minutes from the Train Station called Santa Justa, 2 km .
From Road:
The N-lV connects Andalusia with Madrid across Cordova, Granada, Malaga and the Costa del Sol are communicated by the railcar A-92. The Highway A-49, also call of the V Centenario connects Seville with Portugal. Seville and Cadiz are connected so much by the highway A-4. Another exit (or entry) interesting is the possibility of the N-63 of the Route of the silver that it leads towards Mérica, Castile and León and Asturias. All the exits to the railcars and national highways depart from the surrounding S-30 that makes a detour to the city.
From Port:
Gelves Port Motorway Sevilla-Coria del Río, Km. 5. Gelves . Siviglia Port
Dining
The Hotel Restaurant is The Galeria with a wonderfull views to the Plaza Nueva.