Sanlucar La Mayor Hotels
Search sanlucar la mayor Hotels Availability


Area

Featured Hotels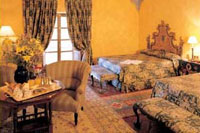 Area:
Click here to book
HACIENDA BENAZUZA el Bullihotel, situated in the small village of Sanlúcar la Mayor, only 15 minutes from Sevilla city centre, it is one of the best
All reservations for hotels in Sanlucar La Mayor are made by professional operators that assist you with your reservation.
In certain periods of the year we offer special prices guaranteed by our hotels in Sanlucar La Mayor.
To find out this offers visit our last minute and special offer side Sanlucar La Mayor.
The easiest and most secure way to reserve a hotel in Sanlucar La Mayor.
Pay on departure!
Credit Card required for guarantee only!
Free Booking Service - No Hidden Charges!