Warning
: Illegal string offset 'beforeTitle' in
/home/bhrhotel/public_html/_COMMON/bhrhotels.city/php/top.php
on line
453
By Rating
Warning
: Illegal string offset 'beforeTitle' in
/home/bhrhotel/public_html/_COMMON/bhrhotels.city/php/top.php
on line
453
By Area
Warning
: Illegal string offset 'beforeTitle' in
/home/bhrhotel/public_html/_COMMON/bhrhotels.city/php/top.php
on line
453
Rome Around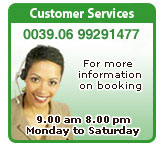 Search Rome Hotels Availability

Rome Residences

Address:
Rome -
Tuscolana - Romanina
-
Via Sante Vandi, 124 - Zip 00173
The Hotel is composed of 99 rooms. They are very cleaned and they have had a new restyling. The building is modern and equipped of the most comfortable services such us gym, swimming pool, solarium. There also are a tennis and mini soccer court. The external parking is very big and the garage, ... ...
[More Info]
Address:
Rome -
Rome Fair
-
Via Senorbi, 89/b - Zip 00148
For an unforgottable holiday in the Eternal City, far away from the traffic and chaos but nevertheless near the historic centre, Rome Lodge welcome its clients for long or short stays, in its wondeful Apartments and Suites, furnished with care and each in a different and personalized style. ... ...
[More Info]

Address:
Rome -
Vatican City - Saint Peter
-
Via Aurelia, 145 - Zip 00165
Aurelia Residence Apartments within walking distance of the Vatican City and St. Peter's Cathedral in the center of Rome. The elegance in furnishing, the total quality service, have been studied with the italian "style" under the best traditional of hospitality. In fact, all the apartments have a kitchen, a ... ...
[More Info]

Area