Warning
: Illegal string offset 'beforeTitle' in
/home/bhrhotel/public_html/_COMMON/bhrhotels.city/php/top.php
on line
453
By Rating
Warning
: Illegal string offset 'beforeTitle' in
/home/bhrhotel/public_html/_COMMON/bhrhotels.city/php/top.php
on line
453
By Area
Warning
: Illegal string offset 'beforeTitle' in
/home/bhrhotel/public_html/_COMMON/bhrhotels.city/php/top.php
on line
453
Rome Around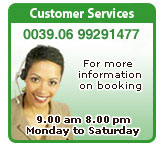 Search Rome Hotels Availability

Rome Hotels in Parioli

1. Hotel Zone


Address:
Rome -
Parioli
-
Via A. Fusco, 118 - Zip 00136
The Zone Hotel is a 4 stars hotel of Rome offers 54 comfortable double rooms.It offers the most modern facilities with a buffet breakfast.The Cocktail Room and the American bar of ZoneHotel Roma, assure you a warm welcome in a relaxed and friendly atmosphere, providing a sophisticate venue for an ... ...
[More Info]

Address:
Rome -
Parioli
-
Via G. Frescobaldi, 5 - Zip 00198
Set in the heart of Rome, in the most of luxuriant vegetation, a treat for the eye and a boost for the spirit, the Grand Hotel Parco dei Principi looks into Villa Borghese. Immersed in greenery, surrounded by a marvellous botanic garden, unique for its size and variety of plants, ... ...
[More Info]

Address:
Rome -
Parioli
-
via archimede 69 - Zip 00197
The Duke Hotel lies in the heart of the splendid and highly exclusive residential area of Parioli in the centre of Rome. Situated between the parks of Villa Borghese and Villa Glori, both splendid urban garden parks, the hotel has the feel of a splendid private club. It offers a ... ...
[More Info]

Area