Warning
: Illegal string offset 'beforeTitle' in
/home/bhrhotel/public_html/_COMMON/bhrhotels.city/php/top.php
on line
453
By Rating
Warning
: Illegal string offset 'beforeTitle' in
/home/bhrhotel/public_html/_COMMON/bhrhotels.city/php/top.php
on line
453
By Area
Warning
: Illegal string offset 'beforeTitle' in
/home/bhrhotel/public_html/_COMMON/bhrhotels.city/php/top.php
on line
453
Rome Around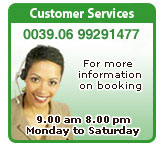 Search Rome Hotels Availability

5 Star Rome Hotels

Address:
Rome -
Veneto Street
-
Via Vittorio Veneto 62 - Zip 00187
The palace was designed by the architect Carlo Busiri Vici between 1900 and 1903 and was one of the first buildings to go up in the area surrounded by vineyards, vegetable plots and gardens. To highlight the hotel's rural location its structure incorporates some of the architectural features typical of large ... ...
[More Info]

Address:
Rome -
Parioli
-
Via G. Frescobaldi, 5 - Zip 00198
Set in the heart of Rome, in the most of luxuriant vegetation, a treat for the eye and a boost for the spirit, the Grand Hotel Parco dei Principi looks into Villa Borghese. Immersed in greenery, surrounded by a marvellous botanic garden, unique for its size and variety of plants, ... ...
[More Info]
Warning
: file_get_contents(): SSL operation failed with code 1. OpenSSL Error messages: error:14090086:SSL routines:SSL3_GET_SERVER_CERTIFICATE:certificate verify failed in
/home/bhrhotel/public_html/_COMMON/functions/general.php
on line
174
Warning
: file_get_contents(): Failed to enable crypto in
/home/bhrhotel/public_html/_COMMON/functions/general.php
on line
174
Warning
: file_get_contents(http://www.travelnow.com/external/xmlinterface.jsp?1&cid=49544&resType=hotel&xml=<HotelSessionRequest%20method='runHotelAvailabilityListQuery'><HotelAvailabilityListQuery><dispCurrencyCode>EUR</dispCurrencyCode><numberOfAdults>2</numberOfAdults><locale>en_US</locale><city>Rome</city><stateProvince></stateProvince><country>IT</country><arrivalDate>10/28/2017</arrivalDate><numberOfNights>1</numberOfNights><numberOfAdults>2</numberOfAdults><numberOfResults>5</numberOfResults><currencyCode>EUR</currencyCode></HotelAvailabilityListQuery></HotelSessionRequest>): failed to open stream: operation failed in
/home/bhrhotel/public_html/_COMMON/functions/general.php
on line
174
Warning
: file_get_contents(): SSL operation failed with code 1. OpenSSL Error messages: error:14090086:SSL routines:SSL3_GET_SERVER_CERTIFICATE:certificate verify failed in
/home/bhrhotel/public_html/_COMMON/functions/general.php
on line
174
Warning
: file_get_contents(): Failed to enable crypto in
/home/bhrhotel/public_html/_COMMON/functions/general.php
on line
174
Warning
: file_get_contents(http://www.travelnow.com/external/xmlinterface.jsp?1&cid=49544&resType=hotel&xml=<HotelSessionRequest%20method='runHotelAvailabilityListQuery'><HotelAvailabilityListQuery><dispCurrencyCode>EUR</dispCurrencyCode><numberOfAdults>2</numberOfAdults><locale>en_US</locale><city>Rome</city><stateProvince></stateProvince><country>IT</country><arrivalDate>10/28/2017</arrivalDate><numberOfNights>1</numberOfNights><numberOfAdults>2</numberOfAdults><numberOfResults>5</numberOfResults><currencyCode>EUR</currencyCode></HotelAvailabilityListQuery></HotelSessionRequest>): failed to open stream: operation failed in
/home/bhrhotel/public_html/_COMMON/functions/general.php
on line
174

Area